COURSE BONUSES
We all love a bonus, and I am pleased to announce that there are some fantastic bonuses with Turn Your Dreams Into Money: How to Build a 6-figure Blog and Live The Life You Want. These bonuses are worth £727!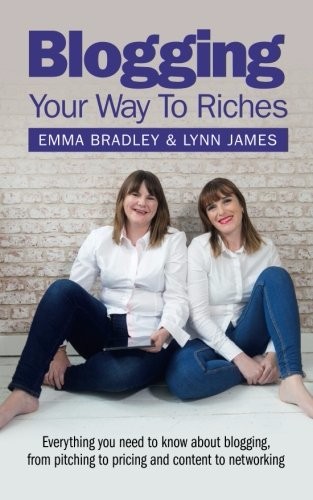 Bonus 1 - Blogging Your Way To Riches by Emma Bradley and Lynn James - £9.99 value
Learn the secrets of success from two of the UK's leading bloggers. Blogging can change your life. Do you dream of a flexible career where you choose your hours? A job that works around a growing family? If so, blogging could be the answer. Emma and Lynn are no longer wage slaves. Instead they choose the campaigns they want to participate in, have that elusive work life balance and love what they do. Even better, they have control over their destiny with the opportunity to grow their dream business beyond all expectations. This book has been written to give you the formula you need to turn your blog into a profit-making business. Whether you have just started blogging or mastered the basics, this book will ensure you are moving towards success. Whether you want to make more money, be invited to blogging events or review everything from holidays to days out, 'Blogging Your Way To Riches' will help you set and achieve your goals. Emma and Lynn discuss: The basics of blogging Goal setting & planning Making money & negotiation Working with brands & PR agencies SEO & other blogging guidelines Collaborations Diversification.
Bonus 2: Access to a private Facebook Mastermind group - £200 value
By purchasing this course, you will have access to my private Facebook Mastermind group. This exclusive group will help you to connect with other bloggers from all over the world, at different stages of their blogging journey. You will be able to ask questions, get feedback and learn from other like minded people.
Bonus 3: Facebook live sessions - £200 value
Every fortnight I will bring you a Facebook live session on a blogging related topic. It will be anything from growing your audience, overcoming impostor syndrome and earning more money. These sessions are a chance to get your questions answered and provide extra value to you.
Bonus 4: Free group coaching sessions - £75 value
I want your blog to be successful, and I am here to help with whatever you need. Whether it is growing your traffic, bouncing a new idea around or tips on plugins, I am offering a free group coaching session every fortnight.
This will take place in the Facebook Mastermind group, look out for the post! This will be your chance to get direct feedback and support from me, and I will answer all your blogging related questions in this post.
Bonus 5: Media Kit Templates - £50 value
Every blogger should have a media kit to showcase their blog. Having a media kit will help you to get noticed and to negotiate a better rate. Show off your best statistics with one of these media kit templates.
Bonus 6: Rate Card Templates - £50 value
Alongside a blogger's media kit, a rate card will help you to save time when negotiating pricing. Save time with these handy rate card templates.
Bonus 7: Turn Your Dreams Into Money: How to Build a six-figure Blog and Live The Life You Want Workbook - £99 value
The exclusive Turn Your Dreams Into Money: How to Build a six-figure Blog and Live The Life You Want Workbook will guide you along your blogging journey to help you to get focused and grow your blog.
Bonus 8: 2,000 pins on Board Booster - £15 value

Board Booster is my number one tool when it comes to Pinterest, and within this course you will get a 2,000 pin trial (new users only).
Bonus 9: FREE blog critique - £27 value
Want to get your hands on some personal advice from me? This course comes with a free video blog critique where we focus on two areas of your blog that you really want to boost or get some feedback on.